Southern and Central Baikal 20-30 August, 2016 RV "G.Yu. Vereshchagin"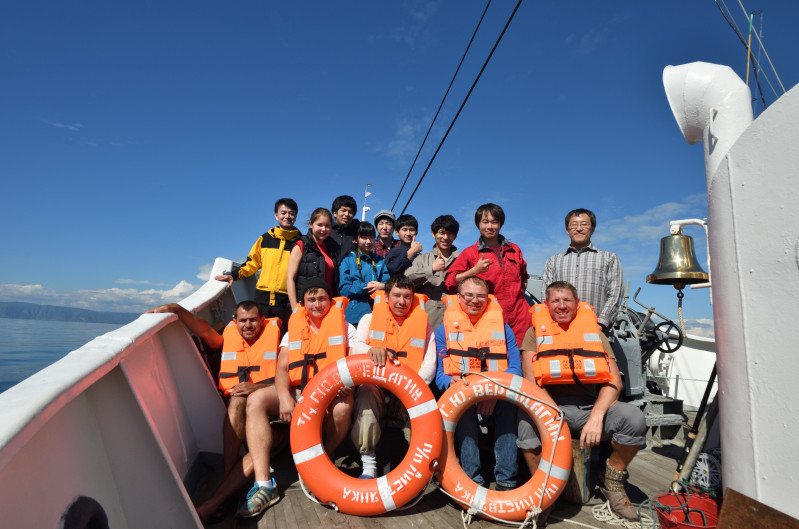 The 10-day geological expedition was performed on board RV "G.Yu. Vereshchagin" in the central and southern Baikal basins within the State Project "Biogeochemical studies of methane cycles and other hydrocarbons in the areas of underwater discharge… (headed by T. Zemskaya), RAS Programme (headed by E. Osipov and O. Khlystov) and Research Contract (headed by O. Khlystov). This expedition was a geological part of the joint cooperation with Japanese researchers in Southern Baikal started in June on board RV "G. Titov" using a multibeam echosounder and profiler, as well as a final stage of the Class@Baikal Floating University Project.
The expedition was aimed at searching for new hydrate-bearing sites in the lake using available geophysical data and at studying gas hydrates. Long-term investigations continued within the framework of the agreement on scientific cooperation with Japanese colleagues from Kitami Institute of Technology "Studies of multiphase methane hydrate formation at the Baikal bottom" (Multi Hydrate Project) prolonged till 2020, together with researchers from Moscow State University and Saint Petersburg State University.
According to the multibeam and profiler data, 22 sites were identified and the lake floor was investigated with 1-5 m gravity corers, 16 of them were examined for the first time. New nearsurface gas-hydrate accumulations were discovered at 5 sites at 5 m below the floor.

To date, there are 44 known hydrate-bearing structures on the floor of Lake Baikal in the first 5 m bottom sediments. . Most of them are mud volcanoes or hydrate hills. Overall, 89 cores with the total 150 m core length were drilled during this expedition.
In addition, the researchers from Moscow and Saint Petersburg universities lectured to Japanese students on carbonates of Lake Baikal and types and distribution of drainage canals inside the cores. The scientists from Limnological Institute performed master classes on core sampling using gravity corers of different constructions, geological description of the cores, and taking samples for various analyses. The television channel "Vesti Rossiya" prepared news reports on this expedition.